Consolidate Orders Across All Sales Channels
With Clear Spider's Order and Shipping Management Solution, your orders can be organized into on centralized location. All orders made through email, telephone, online page, or with the Clear Spider system, are easily tracked and managed.
---
Access Orders Quickly on the Dashboard
Through the to-do list on the homepage you can conveniently see and respond to all active orders using the dashboard. The appropriate user will be notified here when actions are required on their end to move the order along. This could be acknowledging an order, scheduling or receiving an order, or printing pick/pack lists. The order will then be displayed on the home screen, with the required action to be completed and a link to get it done. It simplifies the order process and ensures each step is completed in a timely manner.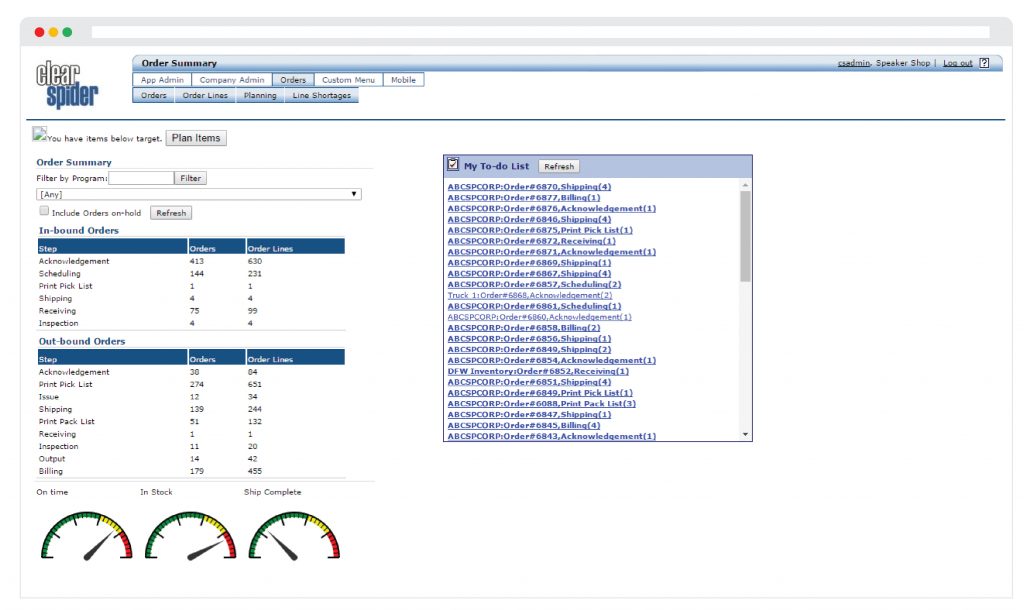 ---
Automatically Sync Orders with Inventory
With the Clear Spider system, effortlessly sync your orders with your inventory. All your orders going through the system are automatically updated. This coordination ensures that you and your customers always have the most up-to-date information regarding inventory. We also offer the option to customize integrations with many warehouse technologies, such as RFID or barcode scanning, to avoid delays and complications.
---
Take Your Order and Shipping Management One Step Further.
Automatic Replenishment
Using Clear Spider's Order Management System, helps to make Replenishment and Fulfillment easy. Know exactly what you need and when your orders need to be restocked.
— Learn More —
Backorder Management
Having the most accurate and up-to-date information, at all times, will help you manage backorders. Clear Spider provides new ways to intelligently sync orders to your inventory, which allows you to be instantly notified if a part or piece of equipment is out of stock or unavailable. You can create inventory allocations in the system to see any potential backorders that may arise from new orders.
Client Information
Keep track of individual customers' information to make placing orders as straightforward as possible. Customize each client's name, location, contact information, and order process so you can have quick access to these details every time a new order is created.
Drop Shipping
Clear Spider can help you simplify the process of shipping products directly from your supplier, to your customers. You will see where your drop shipment orders are every step of the way, and provide visibility to both the supplier, and your customers.
Mobile Access
Our mobile app allows users to access our system, and create orders, on the go. You can scan items quickly using a smartphone camera, work without a network connection, and complete transactions anytime.
— Learn More —
Partial Fulfillment
The Clear Spider system can help you manage partial fulfillment of orders. Mark when individual items have been received and track where the rest of the order is along the supply chain. Your customers will have peace of mind knowing that everything is on its way.
Reverse Logistics
Reverse logistics are a vital part of many supply chains – whether it is a product return, repair, recycling program, or proper disposal. With Clear Spider's Order Management system you can track and create reverse orders with the safe ease of a new order.
— Learn More —
Schedule a Demo
Ready to learn more about what Clear Spider can do for you?