Use Scanners to Streamline Your Order Process in the Warehouse.
By using Barcode or RFID labels you can turn lengthy manual processes into one-step tasks. A single scan can acknowledge a shipment, pull up item details or update item counts. You can create custom labels through the Clear Spider system, or use existing supplier labels.
Receiving

One scan generates product and quantity acknowledgement. As items are scanned, orders will be processed accordingly and inventory levels will automatically be updated in the system.

Put-Away

Each item can store a unique location in their item details. Simply scan the item to find its associated location. Companies that use a FIFO method can also attach an expiry date to each item.

Cycle Counting

Cycle counting is a great way to ensure you maintain inventory accuracy throughout the year. To perform a cycle count, simply scan the item, enter the quantity, and then verify any discrepancies. The system will update all inventory quantities in the system real-time.
---
Paperless Picking and Packing
Using the Clear Spider system, you are able to view and print lists. With customization, paperless picking and packing is also possible. Lists can be uploaded to handheld scanning devices for easy and accurate processing. Many companies have seen a great reduction in picking and packing time when using digitized records and electronic devices.
Want more efficiency?
Our system allows multiple users to be working on one order, simultaneously. It will also determine the correct sized shipping carton to use when packing orders. This helps your business to be more efficient. The work completed by one user, is updated in real-time into the system. This ensures that there is no overlap between workers. Many warehouses that use this feature have seen increased accuracy and a reduction in material cost.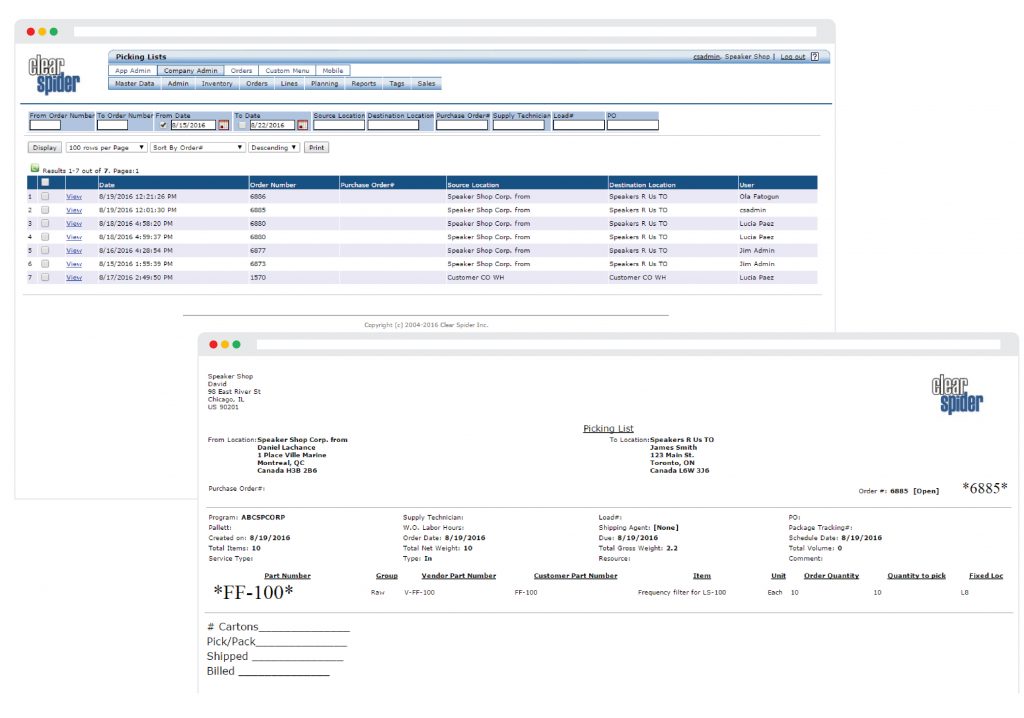 ---
Manage Inventory Transfers and Returns with Ease
With the Clear Spider system you are able to manage inventory transfers and removals. When inventory is being transferred from one warehouse to another, two orders will be created so that the transfer is properly documented and updated in the system. When an inventory removal is needed – whether it is for broken, damaged, or expired goods – our system is able to process that movement and update the inventory quantities. If the removal requires specific disposal, or repairs are possible, the movement can also be completed through return material authorization (RMA).
---
More Features for Warehouse Management and 3PL
Consignment Inventory
Manage inventory that is owned by the supplier, but in the possession of a customer, by giving both parties access to consigned inventory information.
Light Manufacturing and Kitting
Processing orders separately, for parts that are commonly sold together, is difficult and slow. Kitting allows you to group related products together to increase order accuracy.
— Learn More —
Multiple Locations
Accurate inventory management is a key to your company's success. With one click, our system provides an overview of inventory at any of your warehouse locations from one, to hundreds of locations, to manage supply chains. See inventory levels at each individual location no matter who owns the inventory.
Shipping Integrations
We currently offer integrations with UPS, USPS, and FedEx. Talk to us about customization to integrate with other platforms.
— Learn More —
Time Stamps
Each action completed in the system is date and time stamped, and associated with a username or ID. Always know who completed what and when it was done.
User Permissions
Users working in different warehouses, or head offices, can have access to the same up-to-date information. This makes remote collaboration possible. You can set specific user roles so you choose who has access to what.
Schedule a Demo
Ready to learn more about what Clear Spider can do for you?