Gain Valuable Insights
Access the information you need, when you need it. With Clear Spider's reports and analytics you can run comparisons, create graphs and charts, and generate detailed analyses. Compare month-to-month and year-over-year data. Review the reports yourself or export the results for analysis by your management team. Keep your organization and your customers in the loop. Clear Spider's reports and analytics can add valuable insights when making key decisions.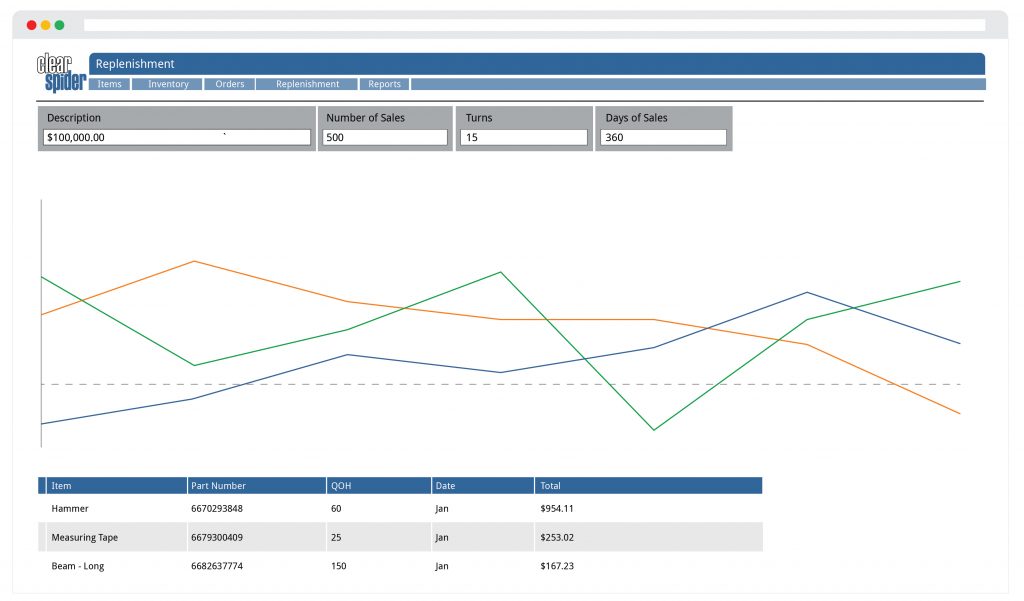 ---
Clear Spider Reports and Analytics
ACCOUNTING




Invoice Report

All invoiced orders are recorded and saved in the system. These invoices can be retrieved using the invoice report. Set parameters to filter search results to find the invoices you are looking for.
---
Billing History

The Billing History report shows invoice data over the time range of interest. The report shows the invoice number, date and time stamp, order number, destination, and user ID that created the invoice.
---
Inventory Valuation

The Inventory Valuation report allows you to see the monetary value of your inventory over time. By selecting a date you can see the change in the valuation of your goods on hand over that set period of time.
INVENTORY CONTROL
Inventory Summary

The Inventory Summary Report provides a one-line summary on each item's inventory status. Items can be filtered by part number, serial number, item description, program group, item group, category, item manufacturer, or item planning group.
---



Inventory Totals

Monitor the inventory stock levels across your inventory locations. View the quantities on-hand, on-order, allocated, minimum target, maximum target, and safety stock in this report.
---
Item Reporting

The Item Reporting page is a one-stop option for detailed item information. This page allows you to execute customized item report templates for your inventory locations. This report provides great flexibility to users that need a wide variety of reports on any given day.
---



ItemGroup Report

The Item Group Report tracks and lists any changes that occurred during item grouping and tax code tagging in the system. With this report a user can view details on each change that may have occurred while grouping items.
---



Transaction Report

Track your weekly or monthly inventory transactions and see a summary of the inbounds and outbounds for specific inventory over a period of time.
---



Planned Inventory

The Planned Inventory report shows specific details on stock levels within the system. View the items of interest and their inventory level details within a specific time period.
LOT CONTROL AND SHELF LIFE
Inventory Tags

With Clear Spider you can use inventory tags to give items serial numbers, set expiration dates, and deal with lot control. The inventory tags report provides a view of items in terms of inventory tags. Filter items in the report based on their unique tag. Users can see item location information, tag description, on hand quantity, and any other customized field.
ORDER MANAGEMENT
Purchase Order History

The purchase order history report shows acknowledged orders within the system. View historical data and specific details on each order in the time frame of interest.

---



Order Summary

The Order Summary Report is an overview of open orders both inbound and outbound. This report is easily accessible from both the Clear Spider dashboard and within the reports menu.
---



Order History

The order history report shows all historical orders within the system. The user can filter results based on item details and then select a date range to view data. The report shows specific details on each order in that time frame.
FULFILLMENT AND REPLENISHMENT
Inventory Viewer

Search and view items based on criteria you set. You can filter items based on inventory location, items that need to be replenished, groups and categories, suppliers and manufacturers, and more.
---



Line Shortages

The Line Shortages report uses colored indicators to show the order status. See where there is insufficient inventory to meet requirements and proceed to replenish your supply accordingly.
SHIPPING COORDINATION
Print Pick List

The Print Pick List report generates a list of orders which are currently at the picking process stage. View and print item lists for each of these orders and improve order picking efficiency and accuracy.

---



Print Pack List

The Print Pack List report generates a list of orders which are currently at the packing process stage. View and print item lists for each of these orders and improve order packing efficiency and accuracy.
---



Tracking Numbers Report

The Tracking Numbers Report contains information on sales order tracking numbers and associated details provided by shipping agents. These tracking numbers are loaded to the system through an adapter.
Schedule a Demo
Ready to learn more about what Clear Spider can do for you?